Mosquito Trap - Characteristics

One time cost. No daily consumables
Strong Efficacy : Can be checked from catch net container
Lowest Cost of Acquisition.
Lowest Lifetime Cost for mosquito trap.
Environmentally Safe : No Chemicals. Doesnot release Smoke/Fumes
Our Vision and Mission
Our vision is to provide innovative and environment-friendly solutions to all people.

Our mission is to create value for our customers and shareholders by protecting their health and reducing preventable illness.
"

MozziQuit

"

Mosquito Trap is an Electronic device works on less than 3 Watts of power consumption.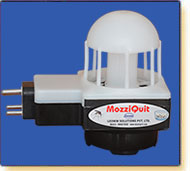 Proprietary additives are combined in the raw material producing unique parts of the device along with unique heat generating technology within the device to generate required heat free of cost to attract the mosquitoes. Attracted mosquitoes are vacuumed by unique vacuum system integrated within the device. Mosquitoes are instantly killed without getting blood or any parts within the unique instant killing zone provided within the device. Dead mosquitoes are collected in the removable collection container personally to check the number of dead mosquitoes before disposal in the dust bin.